Building and Growing Together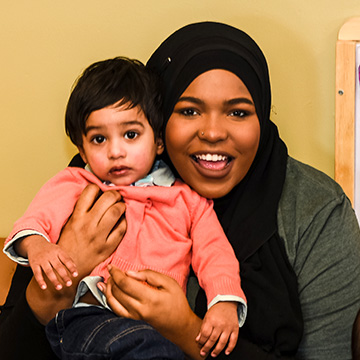 We're committed to fostering a culture where differences are valued, and interactions are free of bias. Our goal is to empower children and their families to value community by embracing unique identities, abilities, backgrounds, and points of view. It's part of fulfilling a vow we've made to make a difference and have a positive impact. We want our employees, teachers, and each child in our care to be comfortable sharing their authentic self. That's why it is important for us to ensure a wide range of diverse voices are recognized and represented.

Together, every day, we work hard to celebrate diversity, embrace our community, and create a sense of belonging where everyone thrives.

Classroom Experiences
As part of our mission to cultivate a welcoming community, our educators and caregivers model kindness and empathy. Every child deserves to feel safe, represented, and accepted in an inclusive environment that includes:
Diverse classrooms, vital to learning.
Engaging, educational experiences.
Spaces that reflect our diverse communities.
Workplace Experiences
Our strength comes from the diversity of our team members and their unique perspectives. Our parent company, Learning Care Group, takes great pride in cultivating and supporting a work culture where inclusion, diversity, and equity are valued as a fundamental layer of our success.

It's a philosophy infused at every level, from our corporate offices to our classrooms. The result is a safe, inclusive environment where all team members thrive. Education and training allow that commitment to reach our children, their families, our educators, and support staff.

Together, we will have great impact.