Caregivers and Teachers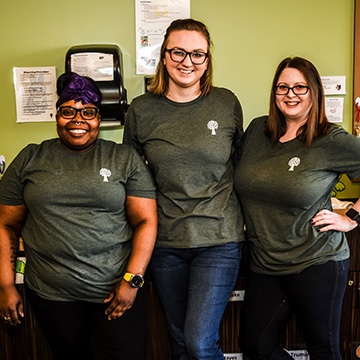 Our caregivers and teachers bond with your child and family to establish a partnership that fosters security and a sense of belonging for your child. They have the experience, expertise, and education to support the age group they work with. Open communication between parents and teachers builds a strong partnership that enhances your child's care and education.

Background Clearances: All educators and administrative staff must undergo background and health screenings, a criminal background check through the Department of Human Services and State Police, verification of education credentials, and a thorough review of personal references.

Health & Safety: Every caregiver and teacher has a complete, detailed training program in their first week. Topics include state-specific licensing rules, child abuse and neglect, fire safety, child care and sanitation regulations, as well as company policies and procedures. In addition, all educators and administrative staff must complete yearly training in first aid and CPR. Staff who transport children on our buses undergo a driving history check and must obtain a chauffer's license.

Administration: Each school is led by an experienced Director who has an associate or bachelor's degree. Directors are responsible for the overall operation of their school, staff management and training, and implementing best customer service practices with a dedication to quality. In addition, our corporate training instructors—who have early education degrees and years of experience working with children—provide ongoing direction to our teaching professionals.

Professional Development
Every educator receives training that fulfills and exceeds state requirements for professional development. Our proprietary training program educates caregivers and teachers on current best practices in child development, health and safety standards, curriculum and classroom practices, parent/caregiver relationships, and other early childhood education topics.
We provide two full days of Professional Development per year. All team members spend these days gaining new knowledge and deeper skill sets in child development and best practices. Through this training, we can ensure our teachers are best prepared to care for and educate the children and families we serve.