School-Age Program
For Kindergarten to Age 12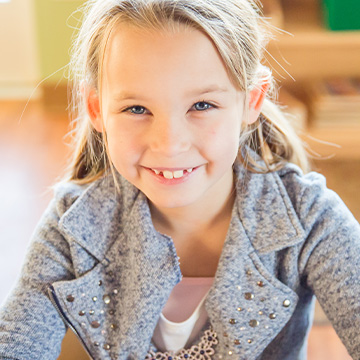 This is a place of belonging. Our goal is to provide a safe, welcoming environment for children up to age 12 to play, grow, and extend their learning. We offer a before- and after-school club and full-day care during spring, summer, and winter breaks (plus, snow days).
Friendship. Fun. Learning. Laughter.
Our school-age program lets children enjoy fun and educational activities while developing friendships when the school day ends. Your child will love connecting with peers, feeling supported, staying active, building their confidence, and embracing a sense of community.
After-School Club
The end of the school day goes by fast—and we're here to help! We'll make sure they arrive safely and have downtime to read or play outside on our state-of-the-art playground.

For added convenience, we provide busing to and from local schools on our activity bus using qualified drivers. Your child's school may also provide transportation to our center on their bus route. Please contact a location near you for further information.

Homework Help
If your child is enrolled in our After-School Club, we also offer Homework Help as a service to help free up your evenings for quality family time. With help from parents and teachers, we follow a Homework Report which outlines what needs to be done each day. After-School Club teachers will provide notes and feedback regarding progress each afternoon at pick-up. While we cannot guarantee children will complete each assignment before they depart, we strive to provide the structure and support your child needs to complete their work.