Healthy Starts Early
Stay Healthy, Grow Fit®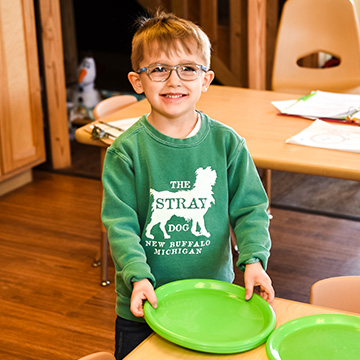 A lifetime of healthy habits is the goal of our comprehensive Grow Fit program. By introducing balanced nutrition and physical activity at a young age, we support the complete well-being of growing children.

Eating Healthy
Our daily menus are reviewed by a registered dietitian nutritionist to make sure we're serving well-rounded, health-conscious meals and snacks, including:
Fresh fruits and vegetables
Whole grain foods with plenty of vitamins
Foods free of artificial dyes

There are also always alternative menus available, including items that are vegetarian and dairy-free. Does your child have any special dietary needs (due to allergy restrictions, a medical diagnosis, or religious beliefs)? If so, we can outline a suitable food plan.

Physical Fitness
Movement and motor skill development are essential elements of physical activity, so regular, planned activity is part of our daily routine.
60 minutes of outdoor physical activity for toddlers and 2-year-olds.
120 minutes of daily activity (at least 60 minutes outdoors) for children older than 3.

Nutritional Education
Daily classroom lessons also feature healthy concepts integrated by teachers, including:
Sharing books that shine a positive spotlight on healthy eating and physical activity
Teaching health lessons that highlight various subjects, such as what it means to achieve "energy balance," pertaining to food intake and the body's daily needs
Using models or toys representing fruits, vegetables, or other healthy foods for pretend play